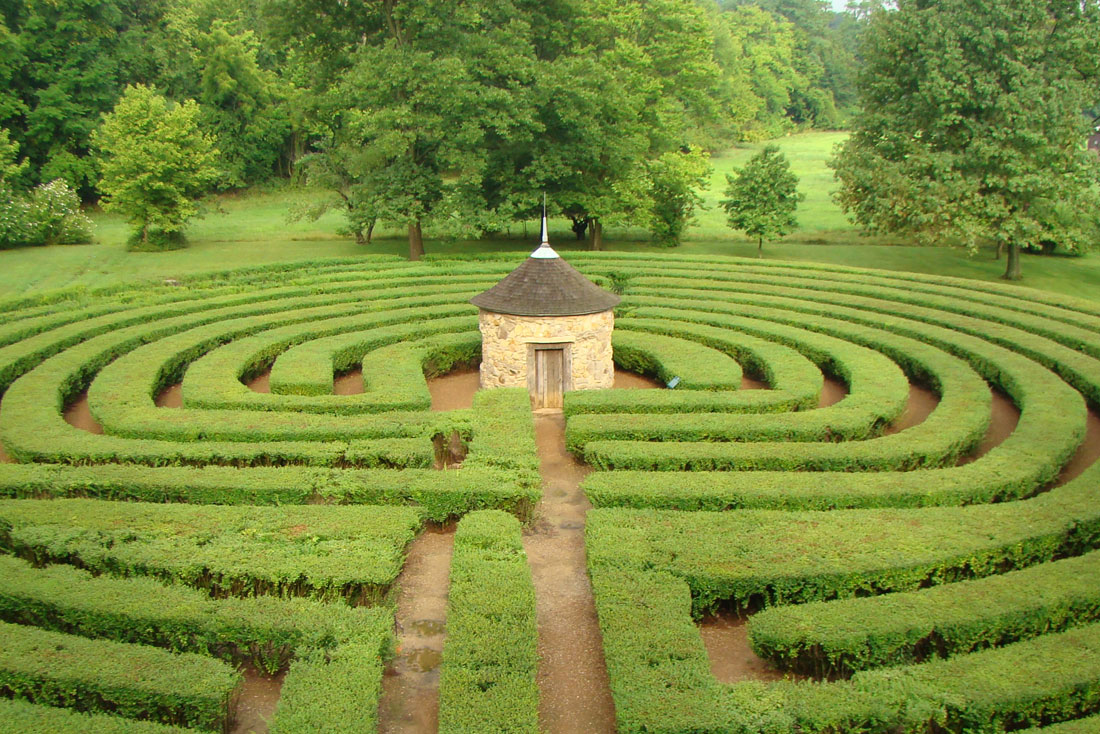 Southwestern Indiana Trip Idea
Starting in Tell City, this trip will take you all the way to Evansville, Mount Vernon and New Harmony, situated in the farthest southwestern corner of the state. Begin your trip on State Route 66 by delving into the town named after William Tell. Continue along 66, being sure to stop and view one of the only seven Archabbeys in the world or visit where Abraham Lincoln grew up. In Newburgh, stop by the Newburgh Locks and Dam for a stunning river view, visit downtown for history and boutique shopping, and head to Angel Mounds to explore southern Indiana's 1,000 year old Mississippian culture. When you reach Evansville, close your trip by enjoying the Museum of Arts and Science or check out downtown. Finally, don't miss the internationally recognized town of New Harmony, once home to two separate utopian societies.
Sites to see & things to do (listed from east to west):
Tell City
Tell City, Indiana
812-547-7933
The Swiss Colonization Society, headquartered in Cincinnati, was dedicated to purchasing a homestead site where a variety of Swiss-German workers could form a city with a diverse community. The site of present day Tell City was founded in 1858.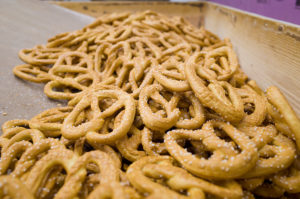 Tell City Pretzel Company
1315 Washington St.
Tell City, Indiana
812-548-4499
At the Tell City Pretzel Company, visitors can watch as workers produce pretzels the original way – by hand twisting them. One of the few in the world to operate in this manner, the company's secret-recipe pretzels are for sale on the premises.
Statue of William Tell
Tell City, Indiana
812-547-7933
Sitting in front of City Hall serving as the town centerpiece is the Statue of William Tell, namesake of Tell City. The statue is a reflection of the town's Swiss heritage and a tribute to the legendary Swiss hero.
Lincoln Boyhood National Memorial
Lincoln City, Indiana
812-937-4541
Abraham Lincoln grew from youth to manhood on this southern Indiana soil. Many character and moral traits of one of the world's most respected leaders was formed and nurtured here. Explore Lincoln's boyhood and learn about the boy who would one day become the leader of our nation.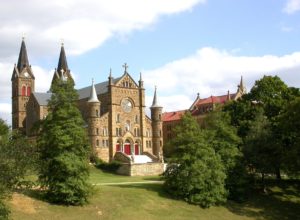 St. Meinrad Archabbey
200 Hill Drive
St. Meinrad, Indiana
800-581-6905
One of only two Archabbeys in the United States (there are only seven in the world), St. Meinrad offers tours of the church and the beautiful grounds.
Newburgh Locks and Dam
Newburgh, Indiana
Enjoy a birds-eye view of the Ohio's river traffic and visit the Old Lock and Dam park which includes the site of the original dam house, the lockmaster's home and a historic log cabin.
Original Newburgh Historic District
Newburgh, Indiana
812-853-2815
Established in 1803 and listed on the National Register of Historic Places, Newburgh was the first settled town along the Ohio River. Highlights include a downtown area of restored public homes and commercial buildings, restaurants, craft and antique shops, and scenic views of the Ohio River locks and dam. Self-guided walking tours are available and guided group tours can be arranged.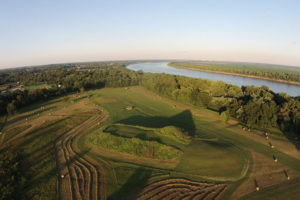 Angel Mounds State Historic Site
8215 Pollack Avenue
Evansville, Indiana
(812) 853-3956
Angel Mounds is the site of a large prehistoric Native American town that flourished from 950 A.D. to 1450 A.D. Visitors can explore the town's reconstructed buildings, stockade and nature preserve.
Evansville Visitors Center
401 SE Riverside Drive
Evansville, Indiana
800-433-3025
Originally built in 1912 as a Japanese-style park shelter, the Evansville Evansville, Indiana Visitors Center is now located in the recently restored Pagoda. The Center is complete with exhibits, area information and a rooftop terrace overlooking the Ohio River.
Riverside Historic District
Evansville, Indiana
The Riverside Historic District is located on an oxbow of the Ohio River adjacent to the city's commercial area. The area includes some of Evansville's most significant examples of high style residential architecture from the period of 1850 to 1920. The district is roughly bounded by Southlane Drive, Walnut, 3rd and Parrett Streets.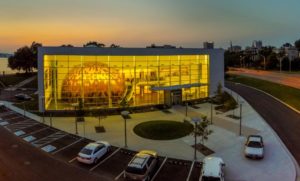 Evansville Museum of Arts and Science
411 SE Riverside Drive
Evansville, Indiana
812-425–2406
One of Southwestern Indiana's most established and significant cultural centers, the Evansville Museum encourages visitors to view our lively world inside their many permanent and changing galleries.
Riverfront Park
Mount Vernon, Indiana
Scenic park with access to and views of the Ohio River.
Posey County Courthouse
300 Main Street
Mt. Vernon, Indiana
Mount Vernon, Indiana
Posey County is named for Indiana Territory Governor Thomas Posey. Built in 1876, the courthouse architectural style is Italianate.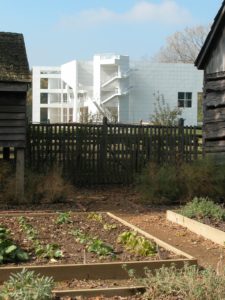 Historic New Harmony
401 N. Arthur Street
New Harmony, Indiana
800-231-2168
The town of New Harmony is full of history, culture, and natural beauty. Tour historic buildings from New Harmony's two communal societies, dine at an award winning restaurant, or attend a play at the Murphy Auditorium. Begin your visit at the Atheneum, New Harmony's visitor center that houses exhibits, art galleries, and a large theater where an orientation film on the town is shown.
John T. Myer Lock & Dam
Posey County, Indiana
The locks were opened in 1969 and the dam was completed in 1977. The project replaced Lock and Dams 47, 48 and 49 on the Ohio River. The project, originally named Uniontown Locks and Dam was renamed in honor of Indiana Congressman John T. Myers in 1996.
You May Also Like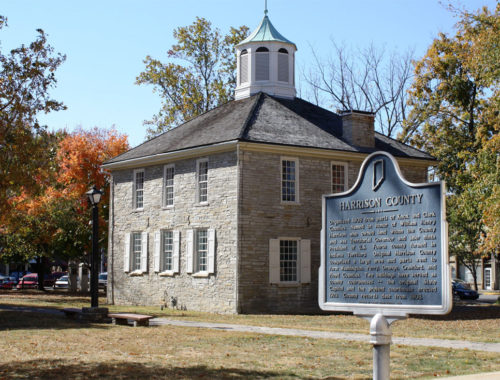 November 25, 2019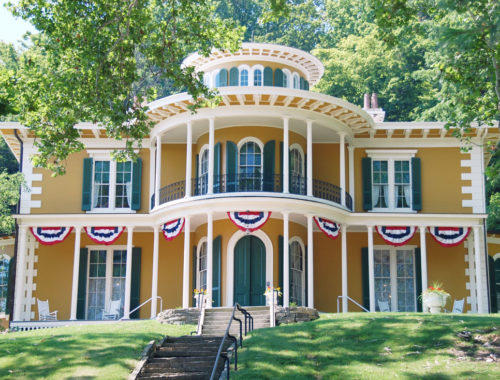 November 25, 2019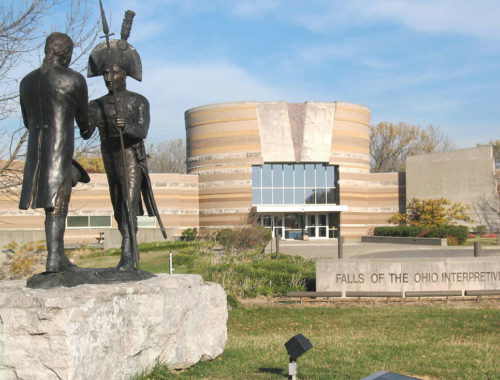 November 25, 2019