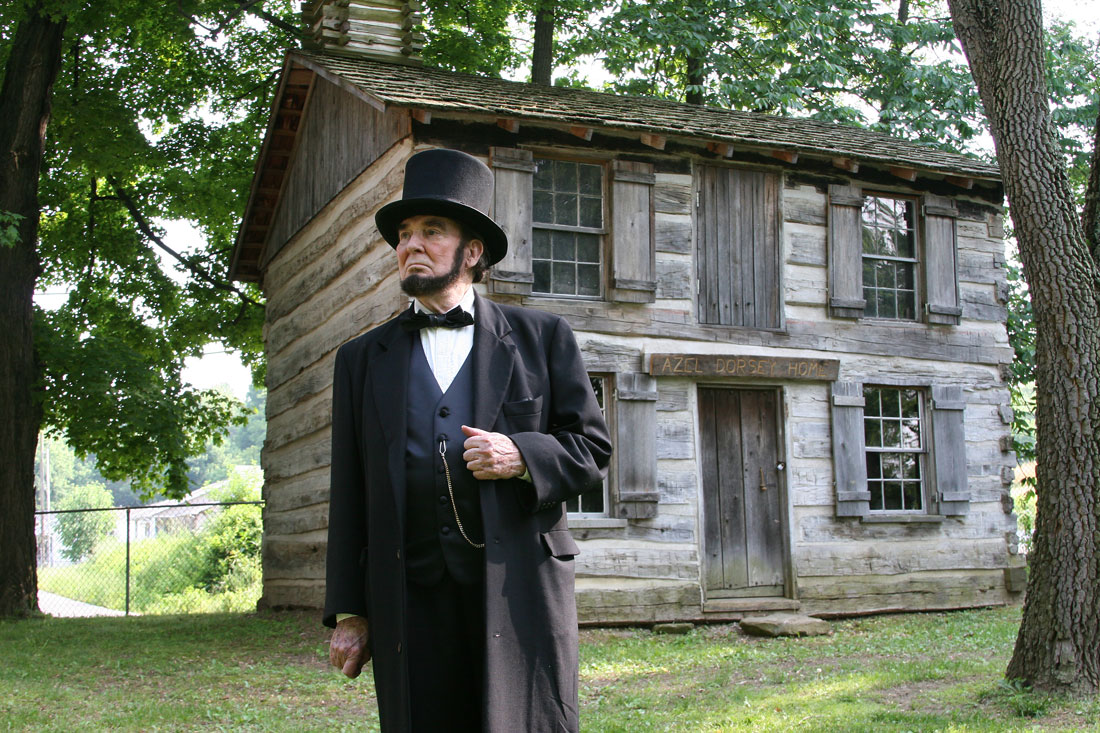 Arts & History
Indiana's Ohio River Scenic Byway is full of history & culture. Explore Devonian era fossil beds at Falls of the Ohio, tour one of the many architectural wonders in the region, or learn about the state's early history.
Posey County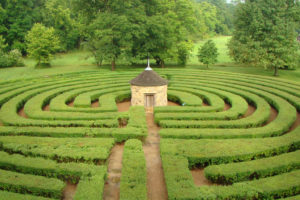 Historic New Harmony
800-231-2168
The town of New Harmony is full of history, culture, and natural beauty. Tour historic buildings from New Harmony's two communal societies, dine at an award winning restaurant, or attend a play at the Murphy Auditorium. Begin your visit at the Atheneum, New Harmony's visitor center that houses exhibits, art galleries, and a large theater where an orientation film on the town is shown.
Working Men's Institute
New Harmony, IN
812-682-4806
Established in 1838, the Working Men's Institute is the oldest continuously operating public library in Indiana. In addition to a library and archive collection, the Working Men's Institute also houses a fine art gallery, one of the state's oldest natural history collections, and a 19th century museum with many artifacts from the two communal societies that settled in New Harmony.
Vanderburgh County
LST 325
Evansville, IN
812-435-8678
LST 325 is a World War II landing ship tank that makes her home in Evansville. She is the "Last of the Class," meaning she is the only operational LST in existence. Tours are led by dedicated and learned crewmembers, some who served on LSTs.
Reitz Home Museum
Evansville, IN
812-426-1871
Built in 1871, the Reitz Home is a stunning example of the grandeur and elegance of the Victorian period. Silk damask-covered walls, hand-painted ceilings, French gilt chandeliers, and other period standards of luxury can be seen on a tour of this historic mansion.
Willard Library
Evansville, IN
812-425-4309
Opened in 1885, Willard Library has a rich history and houses one of the most extensive collections for genealogy study in the Midwest. The library also attracts fans of the paranormal with its famous "Grey Lady" ghost that has been sighted by employees and visitors since 1937.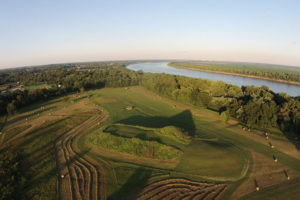 Angel Mounds State Historic Site
Evansville, IN
812-853-3956
Angel Mounds State Historic Site is nationally recognized as one of the best preserved prehistoric Native American sites in the United States. The site features outdoor trails that lead through a reconstructed village and an interpretive center that tells the story of the Middle Mississippian culture that inhabited this area from 1000 to 1450 A.D.
Bosse Field
812-435-8686
Home to the Evansville Otters of the Independent Frontier League, Bosse Field opened in 1915 and was the first municipally owned sports facility in the United States. It's the third oldest operational park in the country behind Fenway Park and Wrigley Field. Bosse Field was also the site for the filming of "A League of Their Own" in 1992.
Warrick County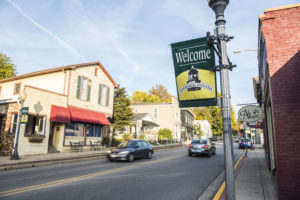 Historic Downtown Newburgh
Newburgh, IN
812-853-2815
Tucked away on the scenic Ohio River, Historic Downtown Newburgh welcomes you to shop, dine, and relax. Antique shops, quaint dining establishments, and walking trails along the river make downtown Newburgh the perfect spot for a day out.
Museum of the Coal Industry
Lynnville, IN
812-922-5659
The Museum of the Coal Industry was founded in the 1980s to honor Warrick County's mining heritage. Highlights include a photography display and a coal car from the former Tecumseh mine.
Warrick County Museum
Boonville, IN
812-897-3100
Since 1976, the Warrick County Museum has been bringing the area's rich history to life. The museum, housed in the former Ella Williams School Building, boasts an impressive collection of local artifacts ranging from an original Washington Hand Press to a Civil War canon.
Newburgh Museum
Newburgh, IN
812-853-5045
Located in the Old Newburgh Presbyterian Church, the Newburgh Museum features exhibits on the town's founding, early industry, and its evolution into modern times. New exhibits are displayed every few months.
Spencer County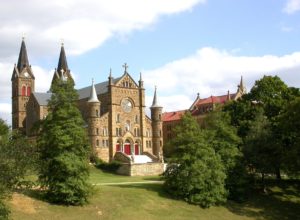 Saint Meinrad Archabbey
St. Meinrad, IN
800-581-6905
Saint Meinrad Archabbey offers a peaceful and spiritual retreat with beautiful grounds and the opportunity to pray with Benedictine monks. Founded in 1854, it is one of only two archabbeys in the United States and one of 11 in the world.
Lincoln State Park
Lincoln City, IN
812-937-4710
The 2,026-acre Lincoln State Park was established in 1932 as a memorial to Abraham Lincoln's mother, Nancy Hanks Lincoln. The park includes ten miles of hiking trails, an amphitheatre, and the Abraham Lincoln Bicentennial Plaza.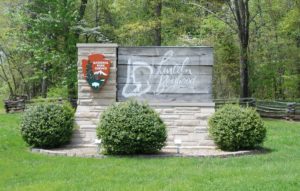 Lincoln Boyhood National Memorial
Lincoln City, Indiana
812-937-4541
Visit the property where Abraham Lincoln spent his childhood, and learn about the lives of the Lincoln family who lived here in a pioneer community from 1816 to 1830. This National Park offers a glimpse into the young pioneer life of our 16th president.
Lincoln Pioneer Village & Museum
Rockport, IN
812-649-9147
The Lincoln Pioneer Village & Museum consists of 13 Lincoln-era replica cabins in memorial to Abraham Lincoln's 14 years spent in Spencer County. The museum, dedicated in 1935, houses hundreds of artifacts from the area's historic past.
Perry County
Celtic Cross at Blue Heron Vineyards
Cannelton, Indiana
812-547-7518
Located at Blue Heron Vineyards, this Celtic Cross was carved within a 20'x22'x4′ stone that is natural to the hillside. Sculptor and Renaissance man Greg Harris spent 23 months working on the cross 6 days a week from morning until dark. It is the largest "insitu" (of its own stone) Celtic Cross in the world.
Cannelton Cotton Mill
Cannelton, IN
888-343-6262
Built in 1849, Cannelton Cotton Mill is one of the most impressive pre-Civil War mills in the Midwest. The mill operated for over 100 years and produced military uniforms during the Civil War and both World Wars. The building was named a National Historic Landmark in 1991 and rehabilitated into apartments in 2003.
Harrison County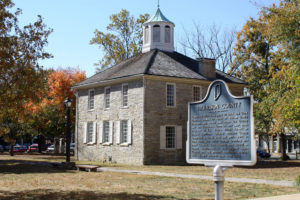 Corydon Capitol State Historic Site
Corydon, IN
812-738-4890
As the state's first capitol building, the Corydon Capitol State Historic Site is an important part of Indiana's history. After the state capitol was moved to Indianapolis in 1825, the Corydon Capitol served as the Harrison County courthouse and became a state historic site in 1930.
Floyd County
Carnegie Center for Art and History
New Albany, IN
812-944-7336
The Carnegie Center for Art and History is a contemporary art gallery and history museum featuring New Albany's part in the Underground Railroad. The Center's exhibitions and programs help you enjoy works of art and learn about the process of creative expression.
Culbertson Mansion State Historic Site
New Albany, IN
812-944-9600
With its hand-painted ceilings, carved rosewood staircase, marble fireplaces, and crystal chandeliers, the Culbertson Mansion reflects the affluence of William S. Culbertson. Once the wealthiest man in Indiana, Culbertson built this New Albany three-story mansion in 1867. It encompasses more than 20,000 square feet and has 25 rooms.
Clark County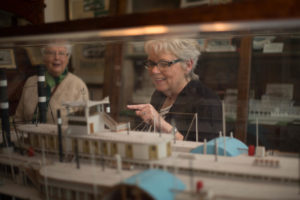 Howard Steamboat Museum
Jeffersonville, IN
812-283-3728
Housed in a stately 22-room late-Victorian mansion, the Howard Steamboat Museum features stained glass windows and intricate hand-carved furnishings. See artifacts and models of famous boats built in the Howard Shipyard.
Rose Island Amusement Park at Charlestown State Park
Charlestown, IN
812-256-5600
In the Roaring '20s, ferries brought Louisville residents to the Rose Island Amusement Park. It featured a dance hall, wooden roller coaster, zoo, dining hall and a swimming pool. Hike down to the exhibit and walk the original paths that Rose Island visitors traversed. Call in advance to schedule a guided hike with an interpretive naturalist.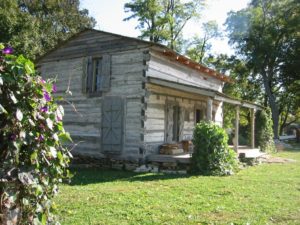 George Rogers Clark Homesite
Clarksville, IN
812-280-9970
Located at Falls of the Ohio State Park, the George Rogers Clark homesite is a historical representation of the cabin George Rogers Clark built in 1803. The site is also where Meriweather Lewis and William Clark departed to explore the Louisiana Purchase territory.
Jefferson County
Historic Downtown Madison
Madison, IN
812-265-2956 – 800-559-2956
Restaurants, cafés, antique shops and clothing stores are housed in downtown Madison's beautifully restored historic buildings. It is the largest contiguous National Historic Landmark District in the United States and one of ten Indiana Arts & Cultural Districts.
Schroeder Saddletree Factory Museum
Madison, Indiana
812-265-2967
Visit America's only restored 19th century saddletree factory. See antique powered machines spin into action. Tours, demonstrations, and exhibits show how the Schroeder family made saddle frames, clothespins and other products. Owned and operated by Historic Madison, Inc.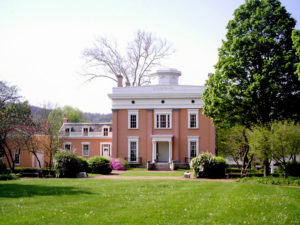 Lanier Mansion State Historic Site
Madison, IN
812-265-3526
The Lanier Mansion State Historic Site has been called the "Crown Jewel" of Madison's Historic District. The restored 1844 building was once the residence of James F. D. Lanier, one of Indiana's most important 19th century citizens.
Switzerland County
Switzerland County Historical Museum
Vevay, IN
812-427-3560
Discover the history of Switzerland County with exhibits such as Early Swiss Heritage, Veterans Remembered, Childhood Memories, Native Americans, Professions, and Domestic Arts.
Ohio County
Rising Sun History Museum
Rising Sun, IN
812-438-4915
Housed in a 19th century plow factory, this museum highlights the rich history of Ohio County. The best known item in the collection is the "Hoosier Boy," the famous racing boat built and raced by J. W. Whitlock in the early 1900s.
Dearborn County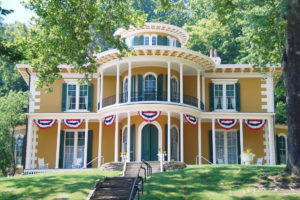 Hillforest Victorian House Museum
Aurora, IN
812-926-0087
Overlooking the Ohio River, this Italianate-style mansion was built by industrialist and financier Thomas Gaff in 1855 and is a National Historic Landmark. Hillforest is open for tours from April to December with numerous special events throughout the year.
Veraestau Historic Site
Aurora, IN
812-926-0983
Built in 1810, this historic house museum sits high on a bluff above the Ohio River and offers stunning views.
You May Also Like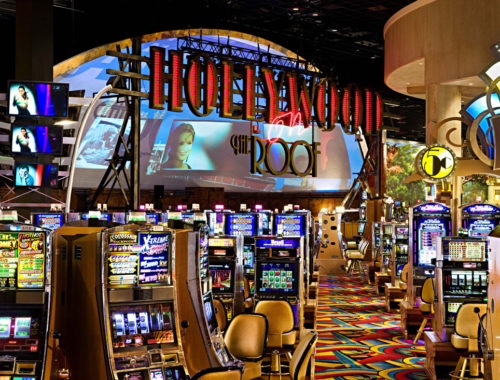 November 22, 2019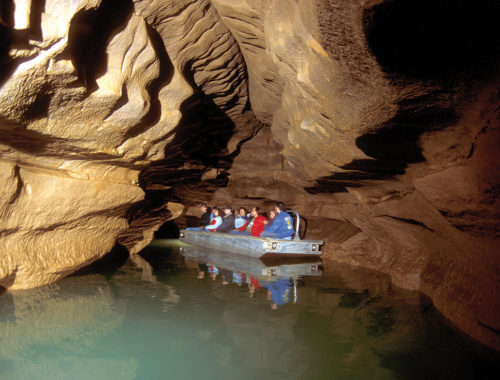 November 22, 2019